REACHING FOR THE STARS
STAR PARTY LOCATION:
49 deg 06.78' N Latitude
119 deg 40.40' W Longitude
Altitudes: 1840m-1869m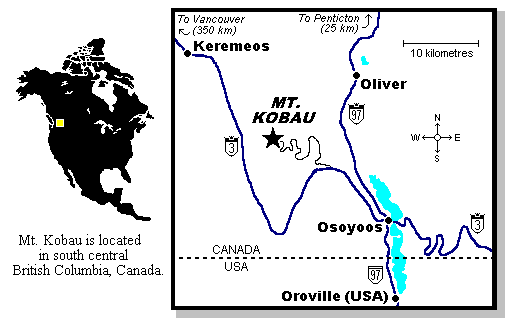 Area Map to Mt. Kobau
REACHING THE MT. KOBAU FORESTRY ROAD
The Kobau access point is in south central British Columbia, about 400 km (250 miles) east of Vancouver, BC. The turnoff, which lies at the crest of a hill on Highway 3, has no identifying signage in advance from either direction, and can be easily missed. Approaching from the west, look for the turnoff on the left about 35 km (22 miles) east of Keremeos. Approaching from the east, the turnoff is 11 km (7 miles) west of Osoyoos. The Mt. Kobau Road itself is open year 'round, and is usually marked by a sign labeled "Kobau Lookout Forest Road" where it joins the highway. During the star party a black and white sign bearing a depiction of a spiral galaxy and the name "Mt. Kobau" is erected at the base of the road.
ASCENDING THE SUMMIT
Once on the Mt. Kobau Road there's no danger of getting lost. The 20 km unpaved road is wide, with no connecting roads other than a few crude 4-wheel drive trails used by ranchers. Grades are modest, and there are no hairpin corners or white-knuckle sections alongside precipitous drops. That said, you DO need to exercise caution. The surface quality varies from quite smooth to rough and rocky. Drive slowly! If you average 30 km/h, you'll make the ascent in under 45 minutes. Keep to the smoother sections, whichever side of the road they're on. Slow to walking pace and steer around the rougher sections. Watch carefully for cattle, deer, and smaller mammals on the road. Driven with caution, any vehicle in good repair should be capable of making it to the star party site without incident. We've had everything from small sports cars to 35-foot motor coaches at MKSP. Take your time, and enjoy the trip. There are some spectacular views! Link to an abridged video of the trip!
Where can you set up
Camping Spaces
I image below shows the Star Party area that has been used in the past to set-up their telescopes and campsites